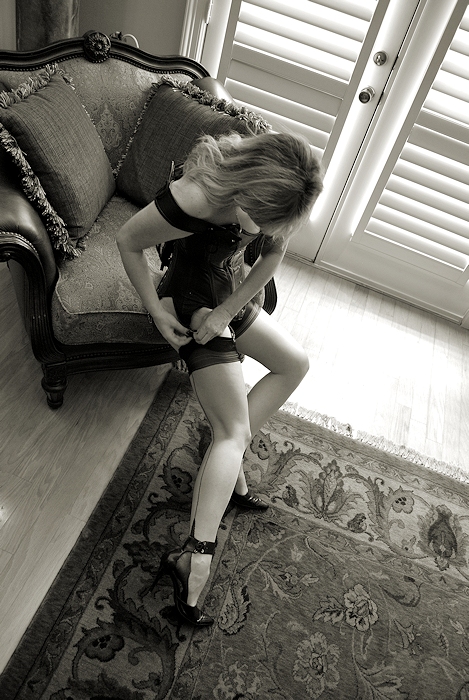 Comments from a few who have journeyed with Me.
Excerpts from reviews in maxfisch.com Domina guide.
You can tell that she enjoys playing with a submissive slave. At the end of the session, she mentioned that she enjoys taking me to new places. She definitely did that, and I'm grateful for the time I spend in her company…nylon fetish
Mistress Ella Strictland is a tall and beautiful blonde-haired woman. She was wearing a black girdle dress, seamed nylon stockings, and black high heels. I was ordered to step into the room to the immediate right, and to greet her by kneeling and kissing her nyloned feet. The room was filled with dressers and stands with fetish clothing, high heels, boots, leather wardrobe, and wigs. There was a cage door on the closet, and the closet appeared to contain more wardrobe. This was her dress up room and it was very clean and organized… cagura
In 5 mins, she understood what I need – and then some more of what I had never experienced … bondagelover
She has known just how much control she has of this slave and has molded me to what I am today, slut ginger, which was chosen because of the enjoyment she receives by carving a large piece of ginger, screwing string on one end and inserting it into my … ginger
This is where I feel most satisfied as I know its my time to please this beautiful sadistic creature. I enter knowing all control is at the tip of her tongue. Today I was instructed to strip and mount the bench ass high…  drained
Spread out tight on the bed with arms stretched back. Elaborate bondage harness all over me and already getting the member up. Bad mistake!….
Mistress Ella Strictland of Houston, besides being one of the most beautiful women around, is also an experienced medical play domme. Last week I had the chance to be one of her subjects. The catheter session was my first and took me to a level of submission I have difficulty describing.I have never felt so submissive and controlled by anyone as I did by her….  catheter
Then She pulled on the winch, and i was slowly raised, then suspended horizontally about three feet off the floor. The amazing this was that i was totally comfortable! Miss Ella had anticipated all of my problem areas and had dealt with them very expertly. "Now it is time for a paddling,"   rope suspension
This is one beautiful lady that is so real, I found myself thinking about her the next day. She is sweet, yet stern. She is intelligent, but not haughty. I was a veritable basket case after our two hours, which flew by. I must see her again. The sooner the better. She really mesmerized me and Houston is fortunate to have her as one of its resident Dommes…  girdles
The EXCEPTIONAL Mistress Ella Strictland in Houston, TX — I'm just not sure where to start. I know a lot of people here have expressed an interest in milking — well, this review is for you…  tapped out
Throughout the session Mistress Ella was extremely attentive and seemed very engaged in enjoying the session Herself. Finally, in a testament to Her personality, She able to lead me, giddily and comfortably, through the uncharted waters of electricity and suspension… Unchartered Waters
This week I finally got a chance to meet Ms Ella. We had communicated online in the past but never had the chance to serve this beautiful Lady. I finally took the time out to have a session with Her. Once I arrived (with much anticipation), Mistress Ella opened the door, i walked in and just as She shut it I was ordered to strip down. From that moment I knew this was going to be good… Molding Desires
Yesterday i had the greatest session this slave has yet experienced, courtesy of Mistress Ella Strictland in Houston…. bliss
This slave has served Mistress Ella Strictland (Houston, Texas) for the past several years. With Her i can be myself, fully and without fear. She has given this submissive girl such joy that i want to share it with all of you! Please visit Her should you ever be in Houston…  joy of serving
I exited the bathroom and was told to stand under two cuffs that were hanging. Mistress Ella then cuffed me and raised the spreader bar.. She instructed me to turn one way stick my cock out and lean back ….. Oh how I wish this one was on film. It would have been one for the records when it comes to anal play. It just made me realize, I'm just as good of a bitch as i am a painslut…. needless to say, I was sent home starry eyed, buzzed and content but still wanting more… CockTailing
In Texas, corporal correction is an activity often carried out in the old fashioned way. Not too long ago, in fact fairly recently, a few swats on the butt in the principles office was acceptable in many public schools here. I really love a good, no bullshit corporal scene. ….
Mistress Ella keeps taking me further and finding new ways for me to entertain Her pleasures. She placed a collar around my neck, pulling me along into the med room. I was ordered upon the table, legs spread, cock and balls tied to the ceiling ..  Objectified
I sat there watching as She walked to the middle of the room in that beautiful white coat and med pumps, fed the twine through a large ring hanging from the center of the roof. She then tied knots and began haning weights until my balls reached for the sky. Nurse seemed to really enjoy swinging those weights and laughed as my balls would bounce in sync with the motion. Nurse Ella then grabbed Her 3 foot whip ……  sadistic nurse
Mistress Ella Strictland is Houston's best prodomme. This submissive has served Her and been used by Her for over 3 years now. This slave also knows that his Mistress enjoys Herself too. She takes great pleasure in being able to control those who choose to submit to Her will. She uses that control to take you to levels of pleasure you probably have never experienced…   milked by the best
On Session day, I was a nervous wreck. Her Dungeon is located in a beautiful townhouse which is situated in a nice discreet location. Mistress Ella opened the door and welcomed me in. She was stunning in the red leather outfit and black thigh high boots. Her dungeon is absolutely beautiful. Everything is super clean. She has one of the most beautiful bathrooms I have seen in a home (akin to an upscale Hotel in Las Vegas) complete with gold fixtures and a beautiful steam shower. I would imagine she is naturally a "neat freak" and it only helped me with building my trust and confidence in her. …. nervous newbie
The unbelievable happened today as I continued my sissification training with Ms Ella. She just keeps taking me above and beyond anything I could imagine….  atomic blast
My head and body is still reeling and it is two days since my first visit with MS Ella Strictland. i don't even know where to begin… Ella's sounds
I was familiar with electric play and always enjoyed the sensation. She has a fully equipped dungeon with almost every electric toy you can imagine. Using the submission I show during mild electric play, She made me into a heavy-duty electrical slut. I get hard and aroused just thinking about the subject! Now I crave sounds, anal plugs or anything else She decides will amuse and entertain Her as I suffer from stimulation overload… Submitting
My ankles are always attached to a spreader bar and arms hung from a hoist, NOT THIS TIME. Ms Ella had a board with three rings on it. My ankles were strapped down to two of them then my balls were bound, stretched to the floor and tied to the third ring. Now my wrist cuffed, attached to the hoist as I was stretched so i could not bend my knees to relieve the pressure on my balls. This actually placed my cock straight out and held it rather still so that she could target the head… Cock Whip
You don't see it very often; but Mistress Ella is an artisan of her craft. I have visited many Mistresses over a 20 year period and have not found one as beautiful, skillful and intuitive as Mistress Ella… …… Unforgettable
In session, Mistress Ella is playful, very strict but fair, humorous, confident and very very controlling at all times. Because I know that I am seeing a skilled and genuine Domme every time that I session all I have to concern myself with is to show up at The Iron Gate(her dungeon) on time and think about what sadistic torments and pleasures She might have in mind for me…. The Real Deal
The Iron Gate Dungeon has to be experienced in person to be believed – it is perfect in every aspect, as is Mistress Ella, of course. Why would anyone ever want to play anywhere else? ….. Picaso of Pain
Ms Ella then pierced through my eyes and said "Glad to see that you finally got here, we have been ready to play and surely can't have a slutfest without a slut, it's party time" I was instructed to strip down even before I could take three steps through the door. I went to the usual spot, stripped and came out with my hands behind my back… CockTailing .